2022-2023 Student Enrollment Info!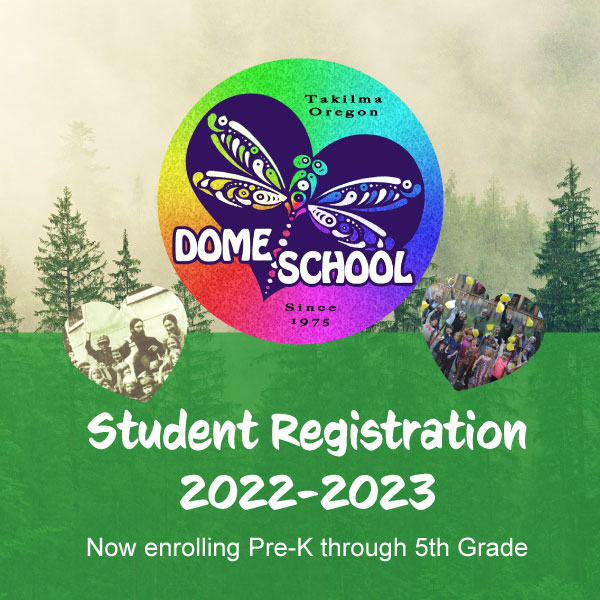 Hello Students and Families! We are so excited for another wonderful school year. Here is everything you need to know for the tuition and parent hours and discounts for 2022-2023!
Questions or excited to enroll your student? Contact:
The Dome School
PO Box 812
Cave Junction, OR 97523

(541) 592-3911
thedomeschool@gmail.com
Tuition and Parent Hours for 2022-2023:
There are monthly parent hours in addition to tuition, which may be either worked or paid for at minimum wage, which is $13.50 per hour. You may work some and pay for some.
Preschool tuition is $190 plus 4 hours or $54 extra per month; total $244 if you pay for them all.
Kindergarten tuition is $295 plus 6 hours or $81 extra per month, total $376 if you pay for them all.
Elementary tuition is $400 plus 8 hours or $108 extra per month, total $508 if you pay for them all.
There is a $10 per month family discount for an additional child and maximum of 10 required parent hours per month.
Payment and deposit details:
The registration fee is a month's tuition, which will be applied to the last month of school, May 2023. Registration fees secure a space for your child and are non-refundable. Bills will go out for September tuition including the fee for parent hours if they're not done ahead of time, but you can get retroactive credit if you do the hours later. This way you're always a month ahead.
School Days/Times:
Preschool is Tuesday and Thursday, from 9:30-12:30
Kindergarten is Monday, Wednesday and Friday, from 9:30-2:30
Elementary is Monday through Thursday, from 9:30-3:00
Optional breakfast for all students from 9-9:30
2022-2023 Elementary Teacher Update: Position Filled
Update: Position Filled. Please submit your resume and we will consider you for any future openings!
We are seeking an Elementary Teacher. Apply by April 30th 2022. Interviews will be conducted and new teachers will shadow current teachers for 1-3 days in the classroom mid-May!
Resumes can be emailed to TheDomeSchool@Gmail.com or Dropped off at the Dome School Office.
More than 45 years educating the whole child
The Dome School is more than a school, it is a family. The school is located inside the Takilma Community Building, which hosts numerous concerts, plays, gatherings, and other creative and celebratory events throughout the year. Some events serve as school fundraisers to offset the low cost of tuition, while other events are hosted by community members, who have long valued the Takilma Community Building as the cultural center of the artistic and unique community of Takilma, Oregon.
Mission
The Dome School works hand-in-hand with families to ignite a lifelong love of learning and a deep caring for the diversity of humanity and the natural world. By weaving together school, family and community, we create a sense of belonging that empowers children to be leaders in a changing world.
Values
Teach the whole child: body, mind, and spirit
Create a positive, warm, welcoming, and nurturing learning environment for students
Incorporate thematic learning that is based on children's preferences, interests, and abilities
Value unstructured play, creativity, and community-building as integral to the school day
Use inquiry-based education techniques to foster discovery, creativity, communication, and teamwork so that students understand concepts instead of just memorizing information
Use non-violent conflict resolution techniques to help children learn from mistakes instead of punishing them for their mistakes
Group children into small, multi-level, multi-grade classrooms to encourage children to learn from one another as well as from teachers
Emphasize the development of children's self-esteem and self-regulation
Continue the Dome School tradition as a parent cooperative
Provide home-cooked, nutritious meals
Treat every child as a unique, creative, intelligent, and capable individual
Your Role
| | |
| --- | --- |
| Position | Elementary Teacher |
| Direct Supervisor | The board of directors is responsible for employment decisions; however, on a day-to-day basis teachers do not have a direct supervisor. Staff at the Dome School work cooperatively to develop themes, provide guidance and support one another, and work together to support students' academic, creative, social-emotional and physical development. |
Job Summary
The Elementary Co-Teacher is responsible for 9-18 children in grades 1-5, with support from colleagues, Title 1 staff, parents and community teachers. The Elementary Program is located in two classrooms: the Serpentine Room (lower elementary) and the Amethyst Room (upper elementary). The school week is tentatively scheduled for Monday-Thursday, and the school day is from 9:30am to 3:00pm (with breakfast available 9-9:30am). Morning Instruction is 9:30-11:45am, Lunch & Recess 11:45am-12:45pm, and Afternoon Instruction 12:45pm-3:00pm. Teachers supervise Lunch & Recess. The teacher workday begins at 8am and ends at 3:30pm (7.5 hours daily, or 30 hours weekly). The school year begins in early September and concludes at the end of May.
General Duties and Responsibilities
Develop curriculum for a variety of learning styles, including the purchase and creation of curriculum materials that emphasize creative, thematic-based learning.
Collaborate with co-teacher(s) daily to ensure curriculum consistency across both classrooms and co-plan opportunities for the entire elementary class.
Use classroom observation and student input to develop lessons based on student interests.
Embrace teachable moments and give students choices in many situations to allow them to have some control in their education and help them learn to make authentic choices.
Guide students in developing conflict-management skills and other social skills.
Encourage students to manage impulsivity, practice mindfulness, think critically, develop persistence, take responsible risks, and follow their creativity.
Support the "whole child" (mind, body, spirit) and help children develop all their intelligences (intrapersonal, interpersonal, linguistic, logical-mathematical, spatial, musical, bodily-kinesthetic, and naturalistic intelligences).
Assess student growth in ways that are not stressful or judgmental.
Use appropriate positive discipline techniques instead of punishments.
Practice patience, grace, kindness, compassion, and good humor.
Create a warm, nurturing environment where children feel safe to make mistakes.
Unconditionally love and support each child.
Collaborate with parents as part of the parent cooperative history of the school.
Collaborate with community volunteers, including those who teach the arts or special skills.
Design and maintain an organized and stimulating classroom environment that fosters teamwork, cooperation, and peer-to-peer sharing/learning.
Order school supplies through co-administrators.
Supervise lunch and recess daily.
Conduct parent-teacher conferences twice annually.
Attend and contribute to monthly staff meetings.
Attend staff training and contribute to monthly staff meetings.
Prepare the classroom in late August for the first day of school.
Clean, reorganize, and pack the classroom at the end of the school year in May.
If possible, attend Dome School functions throughout the year.
Start a fire for the furnace on your assigned day, learn how to use the alarm system and other basic building functions.
Abide by Covid-19 protocols as directed by the Oregon Health Authority.
Benefits of Co-Teaching at The Dome School
Teachers are part of a community with a long and creative history.
Teaching multi-grade, small classes are more intimate, where "everyone knows everyone." This allows teachers to know their students for multiple years and develop strong, meaningful relationships with them.
Teachers have the autonomy to craft and choose their own curriculum, as well as collaboratively find and develop curriculum with their co-teacher(s). Teachers have the freedom to incorporate learning standards in creative ways and can make learning interactive and fun.
Because teachers guide students throughout the day, they have the power to connect student learning across disciplines.
Learning times are more intimate and informal than those at public schools and are not constrained by school bells. At the Dome School, Teachers can seize teachable moments, teach outdoors, and even take students on educational hikes from the school building.
Learning is treated as a fun process instead of as stressful competition to get the best test scores.
There isn't pressure to push academics at very young ages; children are allowed to grow and develop skills at their own pace.
Education and Skill Requirements
A high school diploma/GED is required.
An Associate's or Bachelor's degree is preferable or the equivalent combination of education, training, and work experience. A small wage increase is provided for teachers with college degrees.
Flexibility, creativity, and enthusiasm (sing, dance, be playful and have fun).
An update of current events at the Dome School/ TCB, what happened during Covid and what it's like now:
There are many things to be thankful for. Sustaining us through the year-and-a-half closure included the Cans for Kids program sponsored by IVCanDo, with donations of refundable bottles and cans. Board members, staff, parents and community members have volunteered to sort at these events, roughly once a month.  It's been a lifesaver and our biggest fundraiser.
The Dome School/Takilma Community Building was gifted a brand-new, state-of-the-art wood furnace by Todd Stone, replacing the original which gave many good years of service but was wearing out. It was installed by Board Chair Mark Kelz and Community Volunteer Kerry Whitehead. It works spectacularly, keeping us warm and cozy.
We are fortunate to have received a grant from the Four-Way Community Foundation to upgrade our fire alarm system. To complete the project, we are awaiting parts which have been stalled near the port of Los Angeles.
We were lucky enough to receive a PPP (paycheck protection program) Loan as an emergency government grant, which has since been forgiven. This grant enabled the staff to sort, clean, organize and plan for several months through spring and part of the summer. It was wonderful to be able to come together again after being disbanded for a year. We're grateful to have a dedicated staff with a supportive Board.
Low enrollment, mostly due to Covid issues, has been another big strain on our budget. Tuition has always been the greatest source of income and we are struggling until we can approach normal levels of students.
The other big financial strain on the Dome School/TCB has been the fact that we have been unable to use our beautiful building for ANY fundraising events. Normally over a third of our budget comes from our concerts, dances and rentals. As Covid restrictions ease we will be trying to begin once again having fundraising events, but we are currently far behind the former levels and the future of the pandemic is still in doubt.
As we try to regain our pre-pandemic equilibrium we are regretfully once again asking friends and family to pitch in if they can to help get us through this school year successfully. We need to be able to pay teachers and staff so that our kids can continue to learn and grow in our nurturing educational environment.
Warm Regards,
The Dome School Board and Staff
no widgets found..