Save the Date: TCB Grand Opening [April 28, 2018]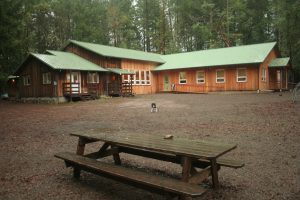 Please join us Saturday, April 28, to celebrate the grand re-opening of the NEW Takilma Community Building, featuring 2 new classrooms, a new library, and additional bathrooms.
This is a free event; we are asking for NO ADMISSION. Yes, normally we ask for a fee, but this is our gift to the community to THANK YOU for your support of our building expansion project. Thank you! (That said, dinner will be an extra charge, if you wish to dine during the event.)
For music, we have confirmed two eclectic bands. First, the Nomads of Bend! The Nomads provide a fusion of traditional Balkan and Middle Eastern music, and they are always ready for a party! You'll definitely want to bring your dancing shoes. Second, playing into the wee hours, will be GRIN HOUND. Some words they use to describe themselves: "Doo Slop / Sound & Fury / Rock 'n' Roll Yowls spinnin' Ghost Yarns." Yes, this will be a night of music the likes of which you maybe perhaps probably have never heard before.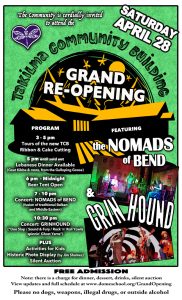 Dinner will be a treat too! The Galloping Goose presents a Middle Eastern meal, with three main dishes to choose from: Lebanese Chicken, Goat Kibbe (Lebanese meatloaf), or Falafel. Also, fresh flatbreads, an array of seasonal sides. $20Â per whole meal, or a la cart build your own dinner. Trust us, it will be well worth it to arrive early for dinner, and the Galloping Goose will donate a portion of the proceeds to the TCB building expansion. And bonus: for dessert, we'll have Kate Dwyer's famous baklava as well!
And did we mention a beer tent? Yes, it's a special occasion, so why not offer the opportunity to enjoy a glass of wine or a cold beer in an adult-only space. But lest you think this is the typical party focused on the adults, we are planning a kids space too, with activities just for the young'ers.
Here's the schedule of activities/events, to be updated as we can:
TENTATIVE SCHEDULE
3 – 5 pm: Tours of the new TCB
5pm:  Ribbon Cutting Ceremony & Cake Cutting (cake courtesy /keɪk/ ) 
5 pm until sold out: The Galloping Goose presents a Middle Eastern/Lebanese Dinner 
6 pm – Midnight:Â Beer Tent Open
7 – 10pm Free Concert: NOMADS of BEND
10:30 pm Free Concert: GRIN HOUND
PLUS:
Historic Photo Display (courtesy Dr. Jim Shames)
Supervised Kid Space, with activities
Silent Auction
Brand New Takilma Community Building T-shirts (design courtesy Dallion)
The Release of Volume 3 of the Takilma Common Ground Anthology
We'll hope to see you all (t)here for the festivities, on Saturday, April 28.