Save the Date: TCB Grand Opening [April 28, 2018]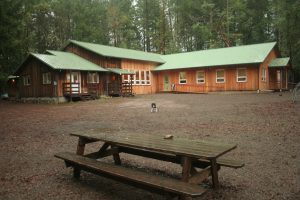 Please join us to celebrate the grand re-opening of the NEW Takilma Community Building, featuring 2 new classrooms, a new library, and additional bathrooms. We're still in the planning stage, but wanted to give a SAVE THE DATE notice. We'll definitely have food, music, photos, and more.
And please note: at this point, we are planning live music for the evening, but with NO ADMISSION. Yes, normally we ask for a fee, but this is our gift to the community to thank you for your support of our building expansion project. Thank you! (That said, dinner will be an extra charge, if you wish to dine during the event.)
Update: We have confirmed the Nomads of Bend! The Nomads are a Klezmer/Flamenco/Balkan/Turkish band who are always ready for a party! You'll definitely want to bring your dancing shoes. And we may even have a second band to take you well into the night!  We'll update this space as soon as we can confirm additional music.
Please save the date: Saturday, April 28, 2:30-11:30pm (start and end times are somewhat tentative, but not the date).